Temple 2
Copán, Honduras, was the capital city of a major Classic period Maya kingdom from the 5th to 9th centuries AD.
In AD 250, the Maya—Mesoamerica's (and the Western Hemisphere's) most advanced culture—began constructing elaborate cities that flourished until about AD 900, an era now known as the Classic Period of Maya civilization. Xukpi (to the Maya), now known as the ruins of Copán was designated a UNESCO World Heritage Site in 1980. It Copán is Honduras' most significant pre-Columbian site and the most elaborate of all Maya cities, earning it the title "Athens of the Maya World."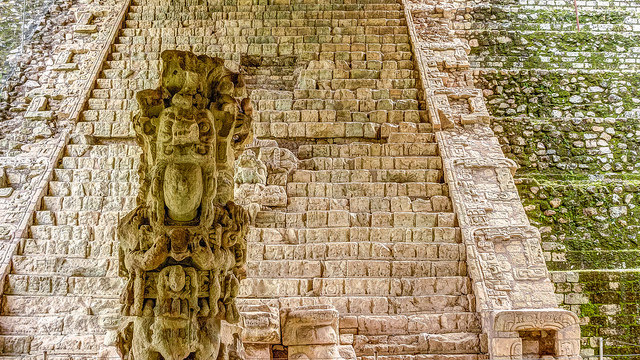 Hieroglyphic Staircase
The most impressive remnant is the Hieroglyphic Stairway—63 steps with 2,500 glyphs, or symbols, carved into the stone, transforming the pyramid's steps into the Maya's longest historical record. The ancient Maya belief system gave extraordinary importance to precisely measuring and recording the dates of events, such as the reigns of rulers, and many of Copán's monuments—and those of other Maya centers—are elaborate sacred calendars. 
Be sure to take the virtual tour of Copán located here.
Gallery