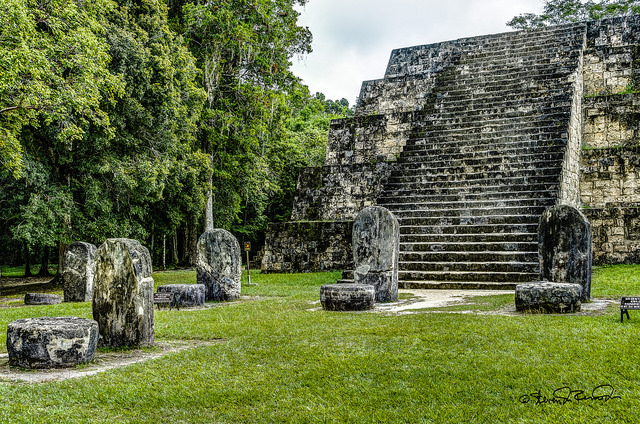 Twin Pyramid
Tikal is one of the largest archaeological sites and urban centers of pre-Columbian Maya civilization.
It was the capital of a conquest state that became one of the most powerful kingdoms of the ancient Maya. Tikal is the best understood of any of the large lowland Maya cities, with a long dynastic ruler list.
We explored the Maya city of Tikal, a magnificent 1,800-yearold complex and UNESCO World Heritage Site. At its peak, Tikal was home to an estimated 100,000 Maya, and it was one of the most important urban centers of its time. Immersed in the Petén jungle in Tikal National Park, the grounds are expansive and inspiring, and it's difficult to determine which is more impressive—the accomplishments of man or those of nature.
The Tikal site comprises roughly six square miles and contains about 3,000 structures—including temples, pyramids, tombs, palaces, ball courts, and terraces—the tallest of which rise above the leafy canopy and vie for your attention with the assortment of animals and exotic birds. Within the park, it's possible to spot a great variety of wildlife.

Temple I
Tikal's Great Plaza has an 144-foothigh Temple of the Grand Jaguar, the tomb and memorial of Maya ruler Moon Double Comb, who was buried with many treasures, including 180 pieces of elaborately carved jade. 
Don't miss the Tikal virtual tour.
Gallery